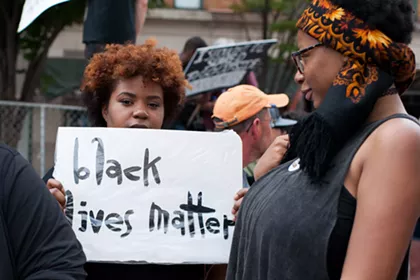 21 slides
The national psyche is reeling from the violence of the last few days. Two black men have been killed by police in two cities, and last night, five police officers were killed and seven others injured by a sniper at a Dallas Black Lives Matter demonstration. The incidents are already shaping national conversations about race, race relations, and the often-strained relationship between police and the black community.
Unfortunately, the turmoil is also an opportunity for unscrupulous people to indulge the red-meat brigade. Republican Wendy Long, who is challenging US Senator Chuck Schumer this fall, tried to link the Dallas shootings with the Black Lives Matter movement, although police have not made that connection.
Police have only said
that the suspect wanted to kill white police officers.
Rochester Mayor Lovely Warren, the Rochester Police Department, and local clergy held a moment of silence this afternoon for the Dallas victims.
"It is so easy to tear each other apart, to tear each other down," Warren said. "We are one Rochester. We are one America."
And Black Lives Matter will hold a rally later today in response to the recent police shootings of two black men.
In Baton Rouge, police
pinned Alton Sterling to the ground
and repeatedly shot him at point-blank range. Philando Castile was shot and killed by police during a traffic stop in suburban St. Paul, Minnesota. He was behind the wheel of his car, reaching for his license and registration, when an officer shot him several times; his girlfriend —
who livestreamed the immediate aftermath on Facebook
— and her daughter were in the car.
"These killings were unjustified and horribly demonstrated the use of excessive police force, which was unreasonable," said the Rev. Lewis Stewart, president of United Christian Leadership Ministries of Western New York, at a press conference this afternoon. "How is the black community to trust law enforcement?"
Part of United Christian's message is that Rochester needs a revamped civilian review board with subpoena power to conduct independent investigations when police officers use force. The review board is a tool, Stewart says, and it would help build community confidence that officers who use undue force are held accountable.
Currently, complaints against Rochester police officers are handled by the department's Professional Standards Section. If the complaints involve the use of force or potential criminal behavior by a police officer, the PSS investigations are then reviewed by a Civilian Review Board, which is run by the Center for Dispute Settlement. But many critics say that the process isn't good enough because in the end, the police chief can overrule the board's decisions.
Rochester Police Chief Michael Ciminelli said earlier today that lack of community trust is discouraging. People don't see all the time and effort that police put into trying to build camaraderie with the community, he said, and many times, those efforts
do
pay off.
"It's very, very troubling to hear people say they don't trust the police," he said.
Stewart also said at yesterday's press conference that police officers need racial justice education and anti-racism training, as opposed to the diversity training they currently receive.
The Black Lives Matter rally is at 4 p.m. Friday at the Liberty Pole in solidarity with the people of Baton Rouge and Falcon Heights, the St. Paul suburb where Castile was killed. Organizers also want to bring attention to the death of Richard Gregory Davis, who died after he was Tased by police last May, and the death of Rochester native India Cummings in February, while she was an inmate at the Erie County Holding Center. Erie County officials haven't offered any explanation for her death, says Adrian Elim, one of the head organizers for B.L.A.C.K., a Rochester activist and black leadership group.
Elim says organizers demand an end to what he calls state-sanctioned violence against black people. Police keep using force and then investigating themselves, only to conclude that they didn't do anything wrong, he says. People are hurting, they are fed up, and they running out of patience with a system they don't believe in anymore, he says.
"It doesn't matter with black people, we could have our hands up, they shoot us; we could be pinned to the ground, they shoot us; we're walking down the street, they will shoot us; we'll be playing in the park, they will shoot us; calling for help, they will shoot us; sleeping in our beds, they will shoot us," Elim says. "It doesn't matter if we're 5 years old, 12 years old, 80 years old, or 22 years old, nothing seems to stop them. "
Around 600 people have said that they plan to attend the rally, according to the Facebook invite.
"We, as black people, do not get to live what is considered a normal American life," Elim says. "We are continually traumatized and re-traumatized again and again and again. No longer is this community just going to act like this is just another day at the office, under any circumstances. When our lives are continually disrupted on the daily, we are going to disrupt, we are going to stop everything until this stops."