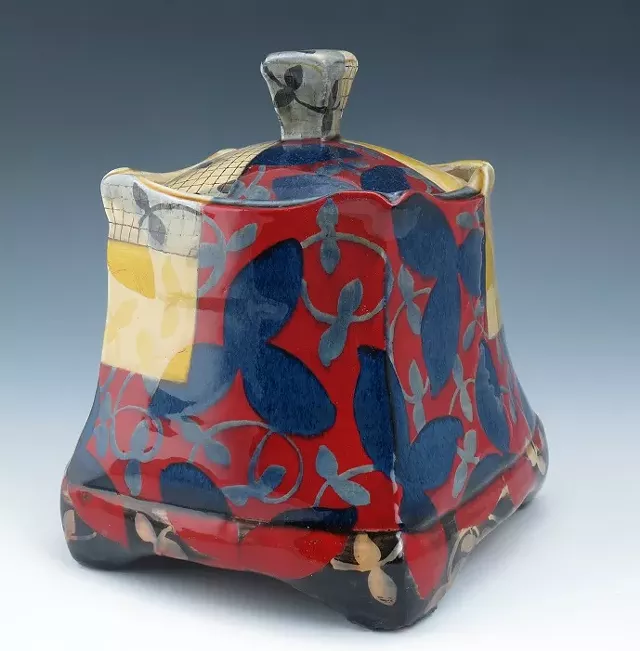 PHOTO PROVIDED
Studio potter Adero Willard is based in Western Massachusetts and professor of ceramics at Holyoke Community College. Willard's work reflects an interest in textile design, painting, and collage.
PHOTO PROVIDED
Richard Aerni has made his living as a studio potter since 1979. Employing signature wood ash glazes and utilizing single-firing, he searches for the elusive quiet harmony of form and surface.
PHOTO PROVIDED
Alfred-based studio potter Andrea Gill was a Professor of Ceramic Art at Alfred University for 33 years until her retirement in 2017. She has shown her work nationally and internationally since 1976 and is in many public and private collections.
PHOTO PROVIDED
Becky Lloyd employs the sgraffito technique of scratching into contrasting layers of slip clay to create highly detailed designs and patterns. Based in North Carolina, she carries on the work that she and her late husband, Steve Lloyd, developed together.
PHOTO PROVIDED
Albany-based potter Brian R. Jones says his current work is a reflection of his interest in "the investigation of the transformative character of memories," with recollections of time, place, or feeling serving as a point of departure for the contemplation of form, color, and tone.
PHOTO PROVIDED
All of Carolyn Dilcher-Stutz's ceramic work is animal-themed: pots and tiles, as well as sculpture, reflecting a life-long love for animals. She has been making art full-time since 2006, and is self-taught in sculpture.
PHOTO PROVIDED
Fredericksburg, Virginia-based artist Dan Finnegan's work straddles traditional and contemporary pottery. His sturdy, architectural forms reflect an interest in medieval European salt glaze and 17th century English slipware.
PHOTO PROVIDED
Doug Peltzman is a full-time studio potter based in Dover Plains, New York. He shifts between porcelain and earthenware clay bodies, and covers the forms in patterns of lines, dots, dashes, texture, reflecting a background in painting.
PHOTO PROVIDED
Ohio-based Jenny Mendes has been a full time studio artist since 1994. She adorns her work with narrative paintings and patterns. "It is especially satisfying when someone connects intimately with my work," she says, "weaving the narrative I have begun, with a personal and meaningful archive of his or her own."
PHOTO PROVIDED
Julie Crosby is based in the Finger Lakes region. She creates wheel-thrown forms that are then scraped, smoothed and cut during the leather hard stage before being kissed by flame, ash, and salt in her wood burning kiln.
PHOTO PROVIDED
Massachusetts-based studio potter Kristen Kieffer's vibrant, Victorian modern porcelain vessels are influenced by 18th-century silver service pieces, Elizabethan and couture clothing,Art Nouveau illustrations, cake fondant, and vintage wallpaper.
PHOTO PROVIDED
Studio potter Lorna Meaden is based in Durango, Colorado, where she creates soda-fired porcelain forms. She derives inspiration from a range of sources: looking at the patterns in the stacked bricks of her kiln or the forms in 18th century European manufactured silver.
PHOTO PROVIDED
As a young potter, Mark Pharis studied with Warren MacKenzie, which he describes as a "transformational experience." A Minnesota-based sculptor, Pharis creates hand-built earthenware forms that straddle utility and fine art. He joined the Department of Art at the University of Minnesota as a faculty member in 1985, serving as chair of the department from 1998 to 2004 and as Associate Dean in the College of Liberal Arts from 2005-2008, before retiring in 2016.
PHOTO PROVIDED
Western Massachusetts-based potter Mark Shapiro is a frequent workshop leader, lecturer, curator, panelist, and writer, and is mentor to apprentices who have trained at his Stonepool Pottery. He is on the advisory board of Ceramics Monthly,is a contributing editor to Studio Potter magazine, is a founding member of POW! (Pots on Wheels!) and is heading up the Apprenticelines Project, which seeks to promote and expand apprenticeship.
PHOTO PROVIDED
Western Massachusetts-based studio artist Mary Barringer has been making both hand-built pottery and sculpture for more than 40 years. She has exhibited her work nationally, taught in art centers and universities across the country, written and lectured on the history of ceramics, and from 2004 to 2014 served as editor of The Studio Potter journal. Her simple forms are rife with subtle texture.
PHOTO PROVIDED
Alfred University ceramics faculty member Matt Kelleher creates soda-fired tableware, and his studio practice has begun to include larger sculptural ideas.
PHOTO PROVIDED
Santa Fe, New Mexico-based potter Matt Repsher draws inspiration from the ways repetition is used to create structure and form in architecture. He carves and paints the surface of his pots to appear as if they are built by layers of arches, posts, lintels, and discs.
PHOTO PROVIDED
Based in Alfred, studio potter Matthew Metz creates elegant, functional earthenware forms often adorned with folk expressions of natural elements. He's participated in a number of residencies and conferences, his work is collected publicly and privately, and he shows and sells his pottery throughout the US and internationally.
PHOTO PROVIDED
Rochester-based potter Peter Pincus joined the School for American Crafts at RIT as Visiting Assistant Professor in Ceramics in Fall 2014. His delicate, elegant work is characterized by an interaction of color fields and can be found in numerous private and public collections.
PHOTO PROVIDED
Shoko Teruyama is a studio artist in Alfred, where she creates work using bisque molds, slab construction, and coil building that she carves, shaves, and sands, before adding decorative elements. White slip is brushed over the red earthenware and then carved back, shiny translucent and opaque matte glazes are applied, creating patterns that allude to the visual movement representing water, wind, and clouds.
PHOTO PROVIDED
Anchorage, Alaska-based artist Steve Godfrey is a potter, sculptor, and Professor of Ceramics and Art Department Chair at the University of Alaska Anchorage. His work is a distillation of a wide range of aesthetic influences, including old New England barns, the color of honey, glacial ice, Ellsworth Kelly plant drawings, Sung Dynasty pottery, Native Alaskan ivory bird carvings, Thornton Burgess' animal illustrations, Danish furniture, and magpies.